Risk Solutions
Risk Cover is protection against loss of life, disability, loss of income and dread disease. The primary reason for taking out any insurance contract is to cover your own financial future together with your family's financial future should anything happens to you.
You should ask yourself: What type of Risk Cover do I need? How much protection do I need and for how long will I need it for?
Your answers will determine the mix and quantities of life cover, disability cover, dread disease cover and accident cover you need. The correct mix, and the ability to change it as your circumstances change, is crucial for sufficient planning.
Life cover
From a family perspective, life insurance can be used to cover the obvious, like debt protection, funeral expenses, and provide income for dependents if you die. However it can also cover higher education for your children or take care of aging parents. If you are an owner or a partner in a business, life insurance can even ensure the survival of the business while a successor is found. 
Dread Disease Cover/ Critical Illness / Trauma Cover
Take a look at some frightening statistics:
In South Africa, 1 in 3 men and 1 in 4 women will suffer a stroke or heart attack before the age of 60
1 in 6 men and 1 in 7 women will develop cancer during their lives
Alzheimer's disease primarily affects older people, developing in only 1 person in 1 000 before the age of 65. From age 65 your chances rise sharply to 1 person in 20, and by age 80, your risk will increase to 1 in 5
Claims paid by Liberty in 2014 amounted to: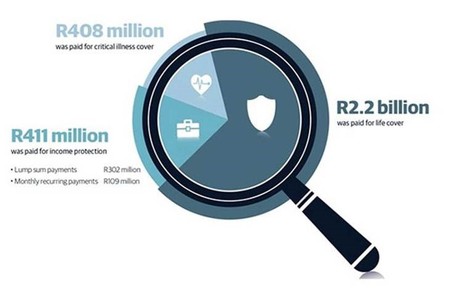 Ambiton has suitable solutions to ensure you can maintain your living standards in the face of these challenges.
Your health and ability to earn an income are your biggest assets – and that is why you need to insure them, just as you would insure anything else of great value. By taking out dread disease cover now, while you are still healthy and insurable, you will avoid being trapped financially by life's unforeseen events.
You may consider yourself reasonably well protected against medical costs associated with a critical illness (such as cancer or a stroke) or a trauma-related event (such a heart attack or head injuries). But have you considered the associated financial costs of such an event?
On average, medical bills only account for one-third of the expenses you are likely to incur as a result of a severe illness. The indirect expenses include loss of income, modifications to your house and your car, alternative medicines or treatments, the cost of hiring a caregiver, rehabilitation therapy and even reconstructive surgery and prosthetics.
Critical illness insurance is designed to ease the financial pressures by paying a tax-free lump sum if you have a life changing event.
Disability Cover
Take a look at these frightening statistics:
In 2012 alone, one of the big insurance companies paid R233.45 million in permanent disability claims
In South Africa only 25 out of every 10 000 people who are disabled are rehabilitated and return to work
The most common causes of disability in South Africa relate to muscular, skeletal, trauma, cancer, accidents and mental disorders.
Your earnings are vital to your family's continued security. Now imagine what would happen if you had an accident or illness that left you unable to continue to do your job. How would you cope without that income? Disability may occur as a result of injuries, accident or even illness, and these can either be temporary where one can return to work, or permanent.
You need to ensure that you can replace your ability to earn an income and still have money available to deal with the possible consequences of your disability. For example, if you are left wheelchair-bound, you will still need to cover monthly living expenses such as food, school fees, bond and car repayments.
Unless you have made solid financial provision, your lifestyle is going to change for the worse. This is where lump sum disability can protect you and your family. The lump sum payment enables you to settle debts immediately, and use what is left to provide an income until your retirement date.
Kindly note that we also offer products that provide cover your children.
No one can guess what the future holds. Life is full of surprises. We have to be prepared for anything that might come our way!
Income Protection
Most people believe that if they are in full-time employment and they suffer an injury, or become ill, that their employer will continue to pay their salary for a reasonable length of time while they recover. 
While this may be true in some cases, if you are ill for more than two or three months, or if an injury lays you off work permanently, you won't be able to rely on your employer, or even on claiming UIF from the government to provide you with an income in the longer term. 
For those people who are self-employed, this risk is even greater as your income is totally dependent on your ability to meet your customer's requirements. Not only could you find it difficult to meet normal monthly living expenses but you could also be faced with medical bills not covered by your medical aid scheme.
Ask AMBITON about protection that will suit your lifestyle.