PRIORITISE YOUR INCOME SECURITY
Recent statistics indicates that income protection policies are in the very low percentile in comparison to other individual risk policies.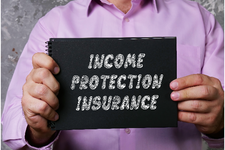 According to FMI's (A Division of Bidvest Life) 2018 RealityCheck consumer survey risk reality survey, a 32-year-old client has a 91% chance of having a temporary injury or illness during their working career and a 37% chance of experiencing a critical illness, and a concerning two-thirds of respondents would have insufficient means within three months after loss of income.
The effects of the pandemic in terms of loss of income, has also revealed that many individuals had a misconception surrounding the terms and conditions around their life insurance cover. It is important to understand exactly what the benefits and limitations of your cover is.
According to Leza Wells, Chief Product Actuary at FMI, "Collectively, insurers and advisers have a responsibility to ensure our clients fully understand concepts like income protection benefits and how waiting periods work. They must be aware of other useful additional products such as childbirth benefits and critical illness cover for their children. They need to be familiar with how claims processes work to facilitate quick payouts.
Ultimately, clients must know that their best bet is to speak to a financial adviser. By prioritising income protection, advisers can ensure their clients have claim certainty, which fosters better long-term relationships – and helps them make the right financial choices for peace of mind."
We encourage our clients to speak to your Ambiton Account Executive to ensure that your income is comprehensively covered.
Source: FMI, 2021. Time for IFAs to put income protection at the top of the agenda. 4 October 2021. [Online]. Available at: https://www.fanews.co.za/article/life-insurance/9/general/1202/time-for-ifas-to-put-income-protection-at-the-top-of-the-agenda/33034 [Accessed 6 November 2021].